It has been two weeks since my arrival back from Frankurt, but the city flavours and memories are still lingering on my mind. All thanks to IILM for giving me this amazing opportunity to study in International School Management (ISM), Frankfurt through their unique one-month study global program. As soon we arrived in Frankfurt, the beautiful city began to cast its magic on me. Later as we started exploring the city the beautiful green meadow, rivers-cape and pleasant weather commenced a mind-boggling impact on me. Enchanting night walks nearby Main river bank are still solace worthy and breathing inside me.
We received a warm welcome at ISM Business School, and our trip unfolded its wings by fantastic City Tour of Frankfurt. From the very next day our academic journey at ISM began. Modules taken up by the students at ISM consisted of Financial Management, Social-Media Management and Strategic Management.
It would not be wrong in any way, if I say that we got "complete package" of business arena comprising in these three modules. No subject is interesting until and unless it's in a good hand for deliverance. Professors were very enthusiastic to impart us learning and made us know what the business scenario of Germany is. They kept us actively participated in our four week sessions and made us nimble in case-studies, team work and presentations.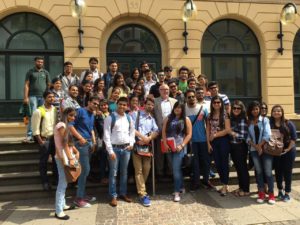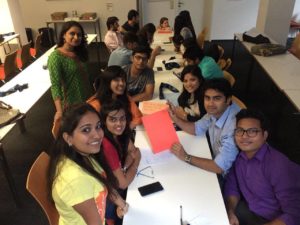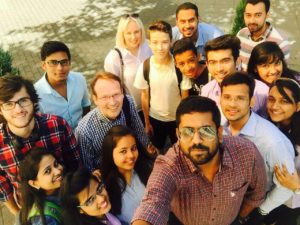 We had a visit to manufacturing plant of OPEL and got aware of how the automobile manufacturing plant works. We made a visit to Frankfurt Stock Exchange and Deutsche Bank and monitored German economy closely.
The portrayal of academic journey at ISM would be incomplete without the name of Prof. Ernest Fahling, HOD of Financial management at ISM. One of the excellent masters/teachers I have ever met taught by. His simple yet significant way of teaching us made the whole difference, and polite sweet gesture makes him different from the crowd. Friendly and highly enthusiastic persona of Mr. Fahling will always be reminiscing evergreen in my mind. The maiden month academic journey at ISM Frankfurt is nonetheless treasure for a lifetime.
As per my observations, Germany is a modern advanced society shaped up by plurality of lifestyles. One thing that must needed to be mention is that German's values their language at top and prefer to speak and hear German first than English. Nonetheless, language and communication did create a troublesome at some point for all of us, yet we were all too engrossed in the wondrous of the city and people that we chose to ignore tiny bit hurdle aside.
My exploration reveals that Germany is recognized for positive and valuable influence of their own culture, religion and methodology of life spending despite adopting some others.
ISM had arranged our visit to Main Tower- A 56-storey skyscraper located in between Frankfurt city named after the nearby Main River and the viewing observatory from the top was just too mesmerizing and spell-bounding effect on mind.
During the farewell week, we had a tour of an open-air museum Hessen Park (German village set up) and I bet no one have been left untouched with the beauty of German country area view and beauty of museum.
Ending it here I will say that global exposure by far has been my most enthralling experience of life. I got stupendous opportunity to learn German Culture and add up a new vista of world in my diary.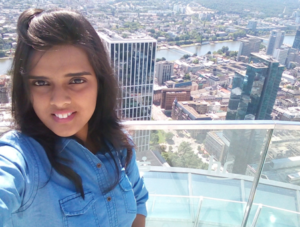 Gutentag Frankfurt!

– Ruchi Singh, IILM PGDM 20116-18